Easy hike, recommended clothing: comfortable shoes.
Length: 7,6 km. Difference in height: 110 m.
Start: Brisighella train station 
Follow SP 302, direction Marradi. After CAB (olive mill and shop for local Brisighella DOP Olive Oil), cross the road and follow the cycling path underpassing the railway, up to Pieve di Tho. Here, croos again the railway using the subway and from SP 302, take Via Valloni, uphill among olive trees. Some of the trees here are older than centuries. Here hikers can choose wether continuing among the olive groves or reaching S. Maria in Rontana Church. Following then S. Antonio Path (CSA), get back towards Brisighella, passing close to the Fortress and to the Medieval town centre. The path is fully indicated with dedicated signs.
Along the path, hikers will go through the Olive Oil Open-Air Museum of Brisighella. It is one of the latest ideas to give value to the Olive tree heritage of these lands and to processes of oil making: from the care for the plant to the selling of the final product.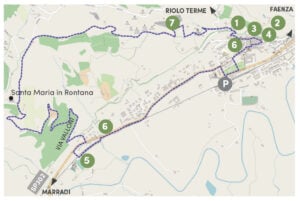 To see
Brisighella is one of the "Most Beautiful Villages in Italy". its town centre features Manfredian Fortress (1), Clock Tower (2) and Via del Borgo or Donkey Alley (3). Ugonia Museum (4) keeps many pieces of the painter and lithographer. The Romanic crypt of Pieve di San Giovanni in Ottavo (pieve di Tho) is found an ancient olive mill from Roman times. Geological Park Museum of Monticino (7) hosts dioramas presentic prehistorical animal that lived these areas.
To do
Brisighella Extra Virgin Olive Oil (6) was one of the first Italian oils to be awarded with DOP mark, in 1996. It is produced from local varieties, cultivated here since Roman times. It is possible to have a taste of this excellent product of Brisighella, along with the other excellences such as Mora Romagnola salami or Moretto artichoke.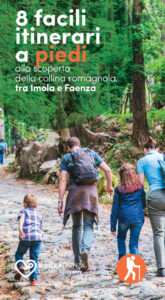 More itineraries on our hills