Easy hike. Recommended clothing: comfortable shoes.
Length: 5,6 km. Dislivello 250 m
Start: Agriturismo Le Selve parking
Follow Via Le Selve, soon it becomes a gravel road (CAI 727, yellow MTB path n. 2). In "La Rocca" area, follow Via la Rocca then left on a gravel road (Via Selva della Massa), which leads to Rio di Magnola following the green MTB path n.1. After 200m, turn left on Via Le Selve to reach the starting point. This itinerary develops only on public roads, without accessing chestnut trees woods: to access the woods it is required to have permission from the owners.
To see
Along the itinerary, hikers will wall close to beautiful chestnut trees woods (1), typical of Appennines, cultivated here for over 500 years: the fruit of this area is Castel del Rio IGP Chestnut. In Castel del Rio, about 5km from Le Selve, is located the towering Alidosi Palace (2), hosting Chestnut Museum (3) and War and Gothic Line Museum (4). Alidosi Bridge, famous humpbacked bridge (5) dates back to XV Century.
To do
In Castel del Rio, La Cantinaccia (7) offers rich tastings of local products.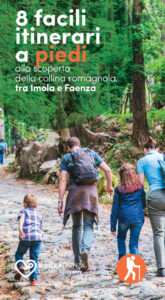 More itineraries on our territory