Hike, recommended clothing: comfortable shoes. 
Length: 4,8 km. Difference in height: 170 m.
Start: Parco delle Ginestre in via Salita di Oriolo, Oriolo dei Fichi, Faenza
Downhill on the right, along a path signaled by few arrows. Cross a small woods, go over a bridge and follow an uphill road along a vineyard. Take Via di Oriolo, pass behind the church and along Love Path "Sentiero dell'Amore" until S. Mamante. After S. Mamante and Ca' Vincenzona, downhill among grapevines, take a left after a small bridge, uphill intil Via di Oriolo and La Sabbiona Agriturismo. Leaving behind the football field, take the left until Via Salita di Oriolo and reach the starting point.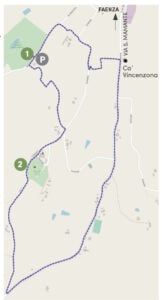 To see
Oriolo Tower (1) is a uniwue tower, its plan is exagonal with 2 right angles. It is open for visiting every Saturday and Sunday afternoons, on festivity days or during one of the many events taking place at its feet.
It was built in 1476 by Manfredi family from Faenza, in the place of an older fortification. "Sentiero dell'Amore" Love Path (2) used to be a military route, while today is a place for peace and poetic inspiration.
To do
Association Torre di Oriolo promotes the tower and local products with many events.
In Agriturismi surrounding the tower (1): guided tastings of precious local wines, guided visits to the wineries, cooking classes. In summer, aperitifs and relax by the pool. Groups can enjoy tastings ad hoc in the park surrounding the Tower.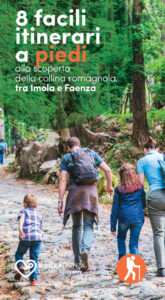 More itineraries on our hills