Starting in Imola, follow the cycling path towards Piratello Sactuary, taking a left towards the hills up to the evocative village of Dozza. Get back to Imola crossing Valsellustra.
Start: Enzo and Dino Ferrari Racetrack
Length: 19.8 km
Difference in height: 220 m
Duration: abour 2h30
Dfficulty: medium-easy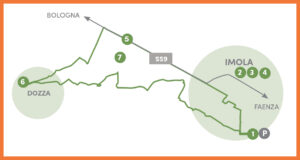 To see
Enzo and Dino Ferrari Racetrack (1), famous fot Formula One and many events hosted here. In town centre, many are the precious buildings, among these San Cassiano Cathedral (2), Bishop Palace (3), Rocca Sforzesca (4), a fortress strictly linked to Caterina Sforza. Piratello Sanctuary (5) is the most important center of the cult of the Virgin Mary.
Medieval village of Dozza (6) is an open-air museum exposing its Painted Walls, created in the various editions of Biennale of the Painted Walls. The Medieval Sforza Fortress (6) of Dozza was transformed by Caterina Sforza into a fortifies castle, then made into a noble residence. Today, it hosts a house-museum and the Regional Wine Cellar of Emilia Romagna (6), showcase of regional and local products.
Book an Experience
Guided tours and wine tastings in Fattoria Monticino Rosso (7). A traditional meal in one of the restaurants or argriturismo in Dozza.
Info and experience booking
+ 39 0542 25413
+39 0546 71044
info@imolafaenza.it