From Reinassance Oriolo Tower to Faenza town center, city of Ceramics, and back thourgh Sarna: an easy bike excursion on the hills, putting together art and history evocations and landscape decorated by vineyards.
Start: Oriolo Tower
Length: 34 km
Difference in height: 400 m
Duration: about 3h30m
Difficulty: easy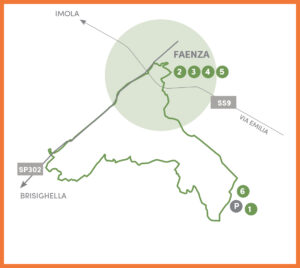 To see
Oriolo Tower, in a panoramic location, has a unique pentagonal map. In Faenza, the International Museum of Ceramics (2) presents the story of ceramics, from Pre-columbian times to nowadays and preserves pieces by Fontana, Picasso, Chagall.
In Faenza town centre: Piazza del Popolo (3), Milzetti Palace hosting Romagna Neoclassical Age Museum (4), ceramic artists' workshops (5).
Esperienze su prenotazione
La Sabbiona Agriturismo (6) offers a visit to the farm and tasting of its wines and homegrown products, a cooking class to learn how to make piadina, snack and relax by the swimming pool. International Museum of Ceramics (2) is a gem not to miss, can be visited freely of with a guided visit.
Info and experience booking
+ 39 0542 25413
+39 0546 71044
info@imolafaenza.it