Discovering Imola, one of the most precious cities along Via Emilia: its Racetrack symbol of motors and speed, and its quiet green areas and art all around. Ride into Santerno Valley along Canale dei Mulini and back into town.
Start: Info Point, Enzo and Dino Ferrari Racetrack
Length: 14 km
Difference in height: 80 m
Duration: around 1h30m
Difficulty: easy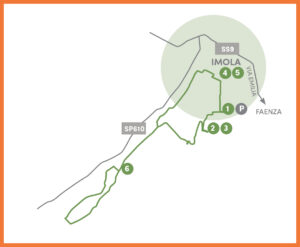 To see
Historic Enzo and Dino Ferrari Racetrack (1), with the monument commemorating Ayrton Senna. Acque Minerali Park (2), created inside of the racetrack after the discovering of natural water springs, today is a place for sport and relax. A prehistorical site is found in the park as well: Monte Castellaccio (3). In Imola town center is located San Cassiano Cathedral (4) by architect Cosimo Morelli, and the towering Sforza Fortress (5), splendin example of fortified buildin between Middle Ages and Reinassance. Canale dei Molini (6) was used for moving mills and watering field, probably dates back to Roman ages and is 42km long.
Book an Experience
Exciting Guided Tour of the Racetrack and driving simulators activity.
Info and experience booking
+ 39 0542 25413
+39 0546 71044
info@imolafaenza.it