Brisighella, one of the "Most Beautiful Villages of Italy" and known for its precious extravirgin olive oil DOP, welcomes into its historical centre with some surprises. See Brisighella main points of interest, before hading out toward the hills, to enjoy the view of the village and its three hills.
Start: train station parking
Length: 19 km
Dfference in height: 260 m
Duration: about 2h30m
Difficulty: easy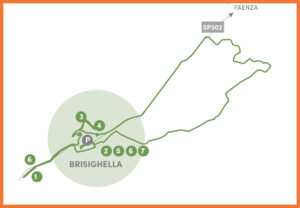 To see
Pieve di Tho, a romanic countryside church, the most ancient in Lamone Valley dating back between VIII and X century. Brisighella historical center with its alleys and the unique Donkey Alley (2), the Venetian Fortress (3) and the Clock Tower (4). In San Michele Collegiata (5), the paintin "Adoration of the Three Kings" by Marco Palmezzano. Ugonia Museum (7) hosts paintings and lithographies of the arstist from Brisighella.
Book an experience
Brisighella olive oil (6) was one of the first in Italy to be awarded with DOP mark. It is possible to book a guided tasting of three olive oil varieties, paired with local products.
Info and booking
+ 39 0542 25413
+39 0546 71044
info@imolafaenza.it