Ca' Carnè Visitors Center, Brisighella
Short hike, recommended clothing: trekking shoes / light trek boots.
Length: 3 km. Difference in height: 210 m.
Start: Ca' Carnè Visitors Center, Brisighella
All the path is signaled by red and white signs and "SA" (standing for Sentiero degli Abissi). In case of wet ground, be careful to sloped areas. From Ca' Carnè Visitors Center (park the car in the parking closeby), the path develops along lawns and woods and passes close to most important abyss, typical geological formation of Romagna Gypsum Vein Park. The path also reaches the top of two peaks, where beautiful landscapes open up on hills and calanchi.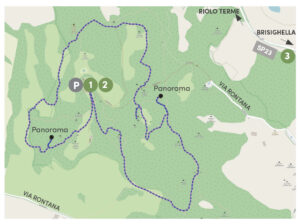 To see
Romagna Gypsum Vein Regional Park (1) presents many interesting geological features, due to the specific formation of this rock: abyss, sinkholes, caves. Many species of flora and fauna only live here thanks to the micro-climated created by gypsum formations. Ca' Carnè Visitors Center (2) offers a restaurant and a
To do
A guided visit in the Park (1) is a chance of discovering the beauty and peculiarities of this area. Very exciting is the visit to one of the caves, with speleological equipment and a guide. (3).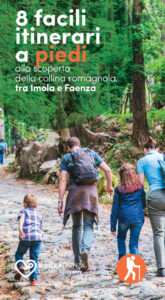 More itineraries on our hills